Merry Christmas to all in the CBA Automotive Franchise family! We're celebrating driving joy for another year with our exemplary teams who have helped us reach new momentous milestones. Not only have our franchise owners, shop team members, and Home Office employees taken our brand to the next level, they have impacted their communities with their dedicated and compassionate acts of service. Our mission has always been to love our neighbor as ourselves, and our franchise owners do just that at their shops every day. Here's how our owners drive joy nationwide:
Transcending Obstacles & Delivering Care
This year, our franchisees continued to positively impact those in their community. In both attitude and action, our owners put people first and understand the immense privilege that comes with serving communities and stewarding a righteous path towards love and kindness.
Jonita White, owner of the Frisco, Texas shop has been with us since 2011 and was the second woman to be awarded her own CBA franchise. Her experience leading a shop as a woman in a male-dominated field has provided Jonita the unique perspective to put her guests at ease. Jonita always finds a way to go the extra mile with her guests, specifically by nurturing her relationships with them with attentive care. When she drives guests in CBA's complimentary shuttle service, Jonita has meaningful conversations and finds different ways to show her guests her sincere appreciation. "On [the guest's] anniversary, we send them some flowers. We found out their kid is in the hospital, so we send them some flowers," said Jonita.
Jonita extends a helping hand because she knows it's the right thing to do. When a single mother, who recently became a grandmother, showed up to Jonita's automotive shop needing her car fixed with a limited amount of funds, Jonita and her team fixed the car at no expense to the family. Focusing solely on the bottom line is not how CBA, or Jonita, approaches business; while running a profitable franchise business is important, so is serving others during times of need.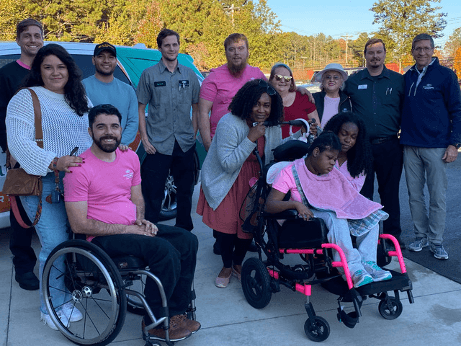 Mike Cotter, franchisee of CBA Alpharetta, Georgia, is another shining example of serving others through acts of kindness. Recently, Mike gave a van to a single mother who needed transportation support for her daughter with disabilities.
In addition to making the auto repair experience more personable, our franchise owners work to streamline services for guests. Tommy Keeter, owner of Christian Brothers Automotive in Tulsa, has spent a lot of time implementing a cohesive texting platform for his guests, to ensure each person who steps into his shop is aware of the services being done on their vehicle and the estimated time of completion. This proactive method of guest communication has established more positive guest experiences and reduced guests' anxiety from the unknown wait time of their vehicle being serviced.
Treating guests and employees like family is second nature to many of our franchise owners and Cal Pascanu is a true example of our brand's "Love your neighbor" motto. Cal was awarded the "Best of Peoria" award by his community, three years in a row because of his shops' dedication to making the Peoria community a better place to live, work and play.
We're looking forward to serving more guests in 2023 and we thoroughly enjoy being able to make a positive impact in the lives of every individual our brand comes across. We hope the holiday season brings everyone cheer and abundant blessings; we'll see you in the new year!